Cumbrian Society of Organists
---
Review : Outing to Leeds : 3 April 2004
The CSO outing for 2004 saw a somewhat depleted collection of members and friends heading towards the city of Leeds, with its great monuments to British 19th century industrial pride. The arrangements made with Dr. Simon Lindley, himself a `fixture' in that place for three decades, guaranteed a day of enjoyment and enlightenment, not least because he graciously gave of his time and local knowledge to add much to our visit. Arriving firstly at the Town Hall, we were warmly greeted by Simon, who having gained us access to the building by the "tradesman's entrance" took us into the splendour of the main hall, with its sumptuous decoration dominated by the 32' organ frontage.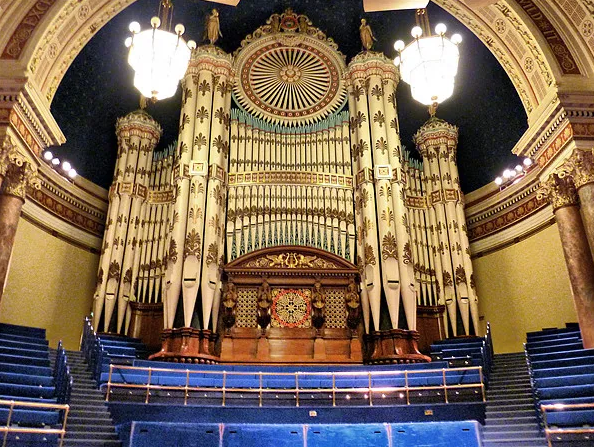 The organ was designed in the grand Victorian concert-organ style by Henry Smart and William Spark, the latter becoming the first City Organist on its opening in 1858. Built by Gray & Davison, it was then one of the largest instruments in Europe, and contained a Swell-box of such proportions that a dinner-party was held inside it! Of four manuals and 6500 pipes, it followed on from organs at Birmingham and Liverpool in its tonal scheme, with vast unison choruses on multiple wind-pressures. Novel features, for the period, included a 'double' Great organ with ventils, adjustable composition pedals, and octave couplers. A further Echo division was added in 1865, but it would appear that all was not well, for the services of Gray & Davison were dispensed with in 1869, and the City authorities contracted Abbott & Smith to carry out a substantial rebuilding in 1898. This work effectively stripped the organ of its pipework, and much of what survives today is therefore not original. On the loss of a permanent civic organist from 1918 onwards, the organ fell into a period of decline, and it was not until 1972 that a major restoration by Wood, Wordsworth & Co saw it returned to working order, with Donald Hunt as consultant and resident organist. He was in turn succeeded by Simon Lindley. The 1972 restoration reduced the organ to three manuals, with a new detached console, the space in the main case where it originally stood being filled by a new Positive division. After Simon's demonstration of the instrument, members were let loose on the 'behemoth'; all agreed that there was a general weakness in fundamental tone, the pedal flues being particularly soft. The main problem seemed to lie with the excessive brilliance of the upperwork, which although appropriate in a classical organ, in this case merely showed up the shortcomings of the under-powered flues. Simon commented that it had to be used with great care!
Due to the generous timings allowed for our visits that day, we were unhurried at lunchtime, and a pleasant and convivial time was spent in the square by the Town Hall over packed lunches, accompanied by 'modern-art-music' in the form of running-water sounds coming from speakers around the art gallery! These could best be described as a cross between a chronic gastric disorder, and an emptying bath!
Our coach having dutifully arrived to collect us, we then headed across the city to the Parish Church, where Simon has held office for many years. The church is of unusual layout, in that it is cruciform in shape, with the organ and choir at the central crossing, and galleries on the four sides. The organ, of substantial proportions, stands behind a screen, better seen than described, as it is a riot of Gothic carving, in the form of a great church. The area around the floor-level console appears to be quite spacious, until one finds that the player sits within a 'cage'. Whether the function of this is to keep him in, or to protect him from the hoards without, could not be established! Needless to say, this huge organ delighted all who heard and played it, having the resources to tackle any style convincingly. The reeds were particularly fine. Simon is justifiably proud of the church's historical significance within the choral tradition, and its continuation today. Wesley was once the organist there, and under Dr. Hook the first Cathedral-style choral services in a Parish Church were founded. Funding for choral music at Leeds is abundant and effective!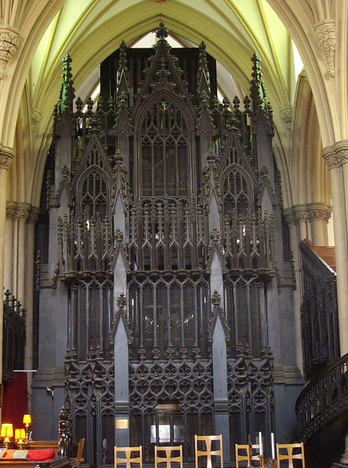 Having thanked Simon Lindley, and his assistant, for their involvement in our visit, we headed further out into the city suburbs, to Armley. Once no doubt an area of relative prosperity, it now boasts one of the most socially deprived and troubled communities in the country. Amid countless rows of worker's terraces, the huge edifice of St. Bartholomew's rises as a memorial to better days long gone. The pollution-blackened exterior gives no hint of the majesty within, now restored to its full splendour with Lottery funding. Also the subject of enormous financial outlay, the organ is now quite magnificent, and we were all moved by its utter brilliance. The Armley organ is without doubt one of this country's most important and monumental instruments. Wealthy local industrialist T S Kennedy ordered the organ from Schulze in 1869, as a gift for his wife. It was installed in a specially-built 800-seat chalet in the grounds of his mansion, but spent only a few years there before being bought by two sisters, who subsequently loaned it to St. Peter's Harrogate. It came to Armley in 1879. Although provision then of a new case may have led to the layout being altered somewhat, it has remained tonally untouched throughout its life, and apart from being fitted with a new Binns console and actions in 1905, the instrument is otherwise original. Harrisons have recently carried out a thorough restoration, at a total cost of £420.000. This organ stuns, inspires, thrills, and excites such that mere words are rendered inadequate!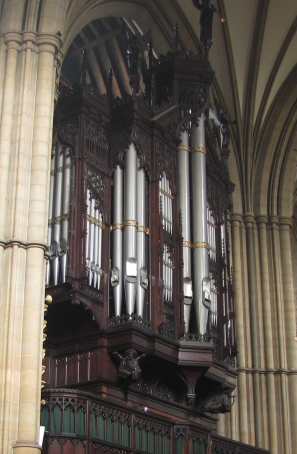 After such experiences, three distinctly different but inspiring organs, total contrast came in our final visit, to the Reed Organ Museum at Saltaire. The curator, Phil Fluke, has built up his own collection of instruments, in all shapes and sizes, and has become an authority on the subject. His concert quality organs are often hired out to performances of Rossini's "Petite Messe" etc, where authentic French reed-organs are needed, and he explained in great detail how the differences between American and European "harmoniums" have led to quite varied results. As all reed-organs exhibit the same rather limited range of tone-quality, we were somewhat dubious that the RCO-standard Apollo organ could be tolerated for very long! However, it was an interesting end to a fascinating and enjoyable day.
National Pipe Organ Register Links
Leeds Town Hall
Leeds Parish Church (Now Leeds Minster)
St. Bartholomew's, Armley