Cumbrian Society of Organists
---
Review : John Kitchen at Crosthwaite : 18 April 2016
"Loud organs his glory forth tell in deep tone"
On Monday evening Crosthwaite Church resounded to the "deep tone" of the mighty organ in a brilliant recital given by the Organist of Edinburgh University, Dr John Kitchen. He has been there for 27 years, having previously held a similar position at St Andrews. In addition, his work as City Organist involves giving regular recitals in the Usher Hall.
The organ at Crosthwaite was more than equal to his demands, being played with colour and vitality from beginning to end. In works of the German Baroque period he found some lighter choruses and delivered the contrapuntal passages with clarity of articulation in the Prelude and Fugue in C minor by C.P.E. Bach, which also had some dramatic features. The Fantasia a gusto italiano by Krebs made attractive use of some softer registration, followed by a bright and lively Concerto in C by Walther.
In music by two great French nineteenth century composers, we heard rich sonorities within the reed stops and an unerring sense of pace and rhythm in an Allegro appassionato by Guilmant, whereas an Adagio by Widor was played with warm expression and featured the string stops and diapasons.
The third part of the programme featured lighter music by English composers of the Romantic period, including an extract from Sullivan's The Tempest, an Adieu by Elgar, The Seraph's Strain by Wolstenholme and ending with the ever-popular Knightsbridge March by Eric Coates.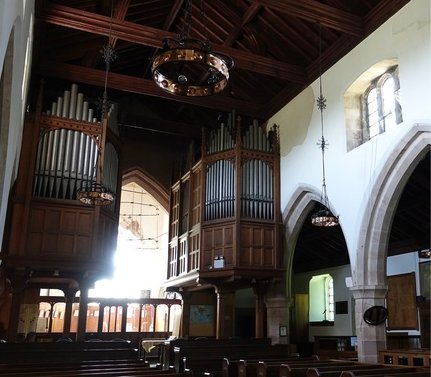 This recital was supported by the Cumbrian Society of Organists, which promotes a monthly series of visits, recitals and masterclasses throughout the county and beyond, as well as providing support for church organists.
National Pipe Organ Register Links